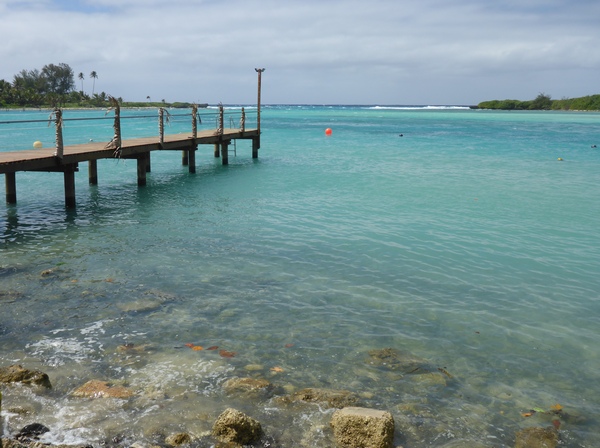 I had just two more days on Rarotonga before I moved on to my next island destination, so I made the most of my time by doing some more exploring on foot and in the sea. Just up the road north from Aremango is the small harbour of Avana, with The Mooring Café which serves awesome fish sandwiches and fresh fruit smoothies. On the way back to Aremango I bought some oranges and postcards, then wrote my cards to folks back home whilst sitting in my little garden courtyard, watching small lizards skittering about on the fence and decking and climbing from leaf to leaf, tongues flickering in and out. That left some of the evening for hammock time, watching moths fluttering about the plants, while listening to cicadas and the occasional shrill whine of a mosquito.
The next day the weather had turned a bit unpredictable: clouds and light rain alternating with the blue skies and tropical temperatures of before. But I was determined to explore the coral lagoon and reef near Aremango, and once you're in the sea it doesn't really matter if it's raining. Just offshore is the small volcanic islet or motu Taaoka: 'taoka' means 'treasure' in Maori, so this motu could be translated as 'Treasure Island'!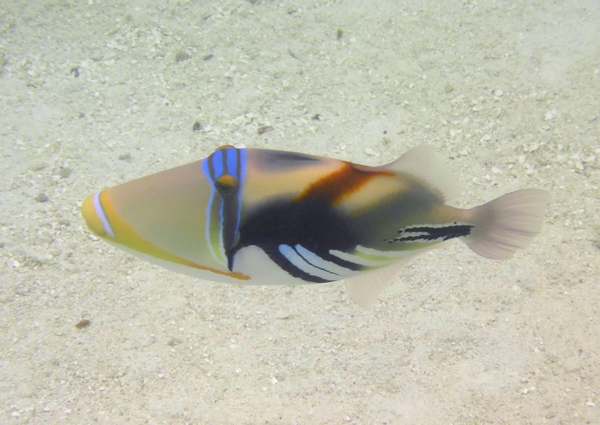 The real treasure of the lagoon is to be found beneath the waves, of course. Despite the more choppy weather stirring up the sand and visibility not being as good as it was a couple of days ago, I'm soon face down taking my new mask and snorkel for their maiden voyage, bobbing around coral outcrops and bubbling "Oooh!" and "Aahhh!" at every new tropical marine creature I encounter. White, yellow and black threadfin butterfly fish; gaudy fat-lipped Picasso triggerfish; silver and black-striped convict surgeonfish; and of course millions of warty brown sea cucumbers littering the ocean floor, patiently sucking in and filtering food particles from the sand and excreting it in pristine whiteness.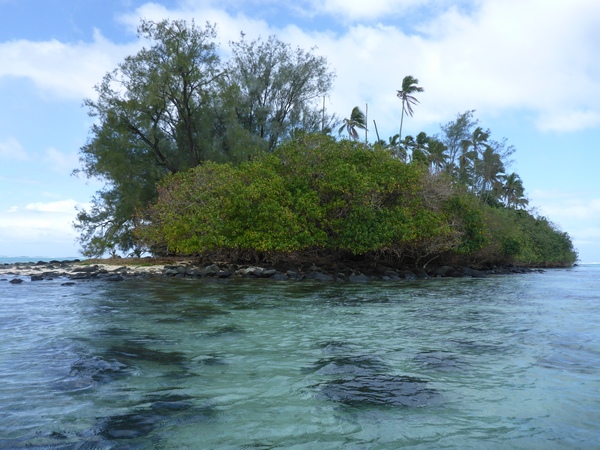 Closer to Taaoka the currents get interesting: I'm reminded of the warnings I've read about how dangerous it can be to swim near a reef pass (opening or gap in the reef), where water flows in from and out to the open ocean. Later on I discover that two tourists died last year swimming near Avaavaroa Passage a little further southwest. I'm not wearing fins, just reef shoes, so my ability to swim well in currents is limited: at low tide it's shallow enough to stand in places between the shore and the motu, but the currents still pull me about. I'm determined to reach the motu though, and I finally clamber ashore.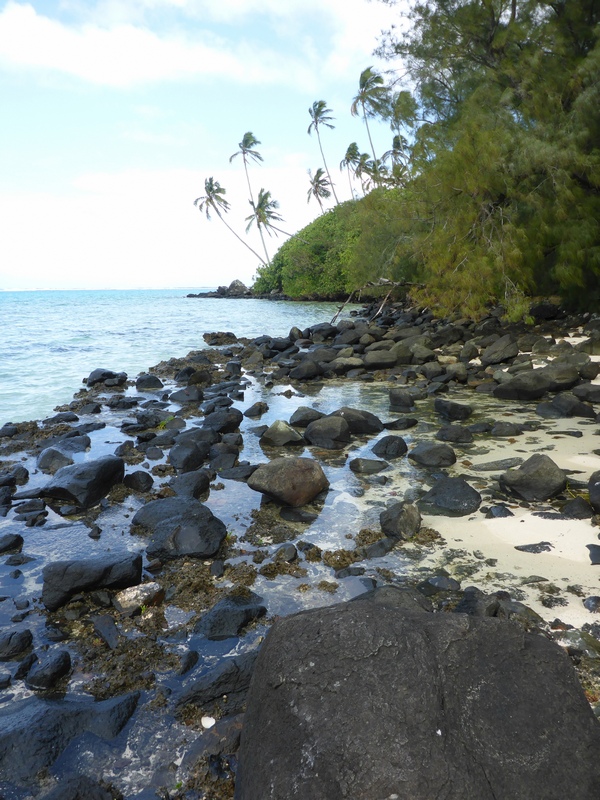 With a pale sandy beach strewn with lava rocks and leaning palm trees, Taaoka feels satisfyingly like somewhere you might get stranded. I alternate between whistling the theme from Robinson Crusoe and Desert Island Discs, as I clamber over boulders and peer into the motu's small scrub-covered interior.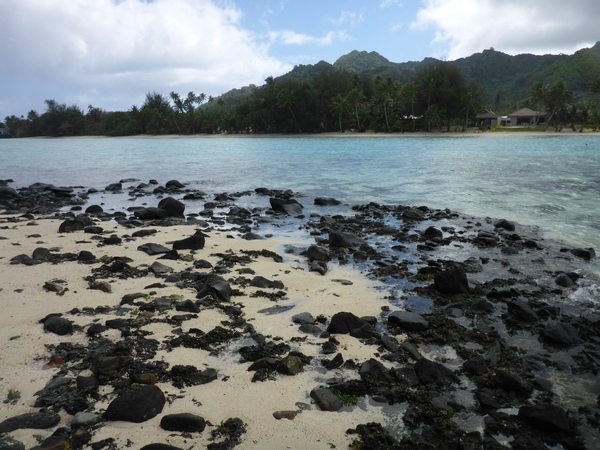 You wouldn't have to survive for very long if you were washed up on Taaoka, unless you were a non-swimmer: Muri's main shore is a short swim (or wade at low tide) away. It was a satisfying exploration though; and the reef fish were bigger and more numerous out by the motu than they were close in by the main shore. I stepped back into the sea and snorkelled until my fingers went wrinkled, incidentally managing to give my back a stonking dose of sunburn (one of the not-unusual hazards of snorkelling). I should've known better and worn a rash vest, but I was lulled into a false sense of security by the patchy cloud and relatively cooler temperatures. The moral of this story is: the Tropics are the Tropics, and tropical sun is not to be trifled with. Cover up or suffer the consequences!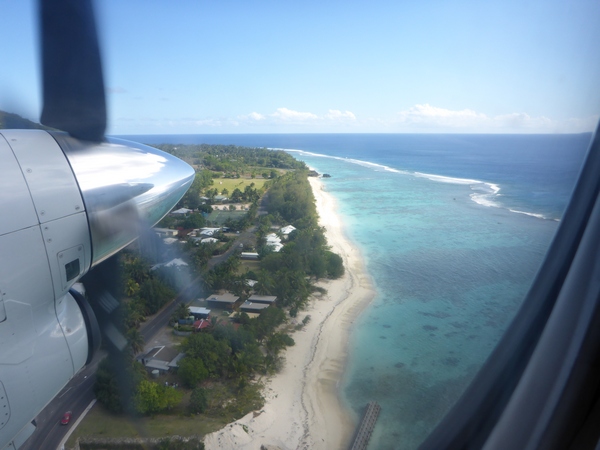 The next day dawned sunny and saw me catching a plane from Rarotonga airport to my next destination: Aitutaki, the northernmost of the Cook Islands Southern Group. Aitutaki had a reputation as something of a tropical paradise, and can be reached by a 45-minute flight from Raro. You can even day-trip Aitutaki if you wish, flying over in the morning and returning in the evening: but I had planned to spend a whole fortnight there. I liked the sound of the island: less developed for tourism than Raro, a simpler and slower pace of life, and plenty of good coral reefs and lagoon to snorkel in. Not to mention it was further north… so even warmer!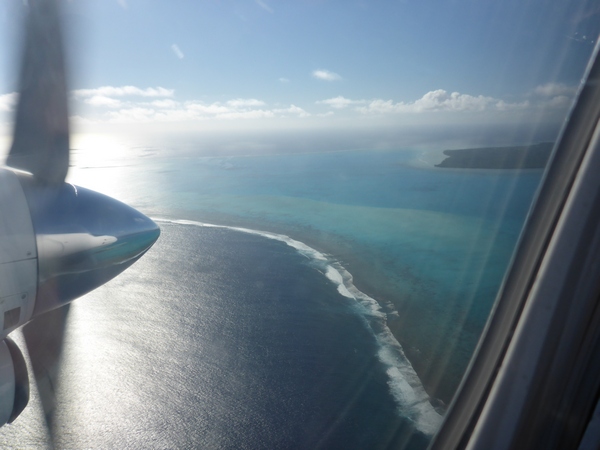 As the little twin-prop aircraft made its approach to Aitutaki, I got a glimpse of the island's famed turquoise-blue lagoon. Once on the ground I was met by the family who I would be staying with for my first week on Aitutaki, at Vaikoa Units on Tamanu Beach: Terangi and Junior Tamati and their teenaged son Joel, who took me in their pick-up back to Vaikoa. Terangi then kindly ferried me on the back of her scooter down to the nearest food shop to buy some essentials like bread and cheese: on returning to the little garden unit which I was staying in, it was to find finger bananas and passion fruit freshly-picked by Mama (Terangi's mother) in a bowl on the table. Plenty of drinking water too: rainwater stored in butts, which I could boil and then chill in my fridge!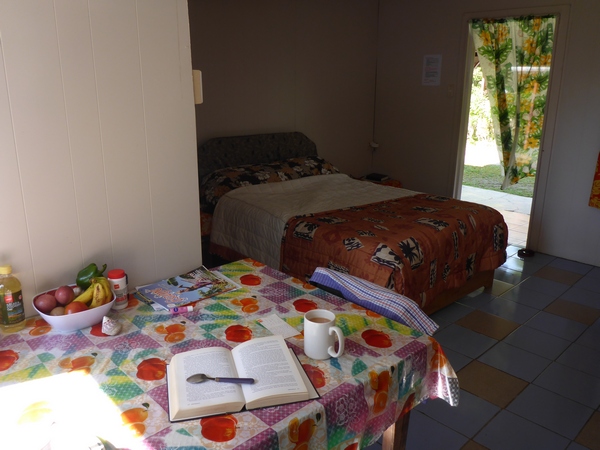 I liked my room at Vaikoa: a nice big comfy double bed, a clean shower and loo, a little kitchenette with a cooker and fridge and table for meals, and a nice through breeze if desired (with mosquito coils burning to discourage the biting critters).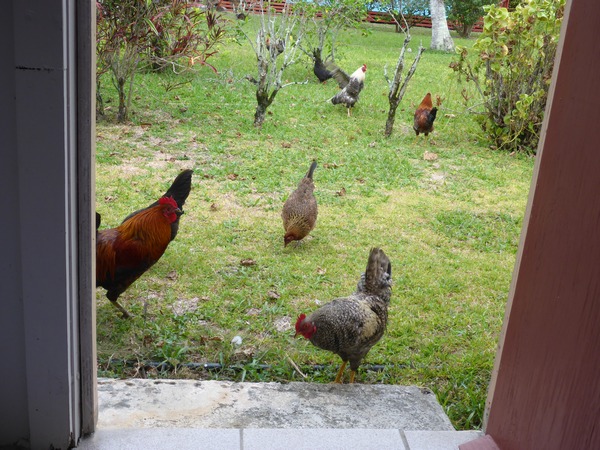 Inevitably when I opened my kitchen door there were chickens outside, poised to eagerly investigate any edible scraps I might want to fling in their direction. As on Rarotonga, chickens are endemic on Aitutaki: happily scuffling about everywhere, wary of humans but susceptible to being lured with coconut. I tried a spot of chicken whispering, but this proved less successful. Coconut appears to be the secret of chicken friendship.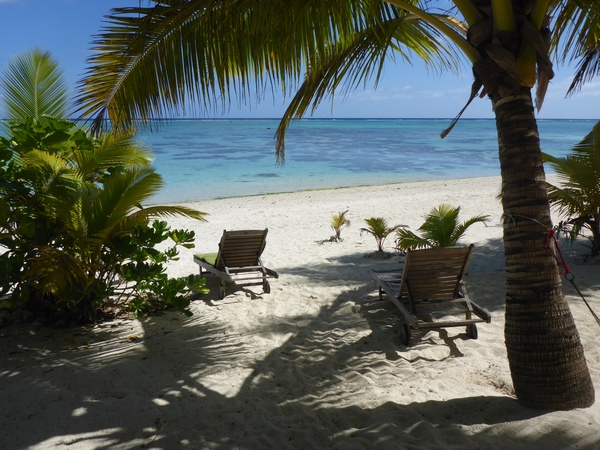 My priority after getting the basics of food and water sorted was of course to investigate the beach, a mere 30-second stroll away. It was heart-stoppingly beautiful: bright white sand, coconut palms and blue blue water. I sat down and gazed at it and almost burst into tears at how lovely it all was. Which may sound soppy but I was starting to feel slightly overwhelmed by how incredibly fortunate I felt to be halfway around the world sitting on this utterly gorgeous tropical island.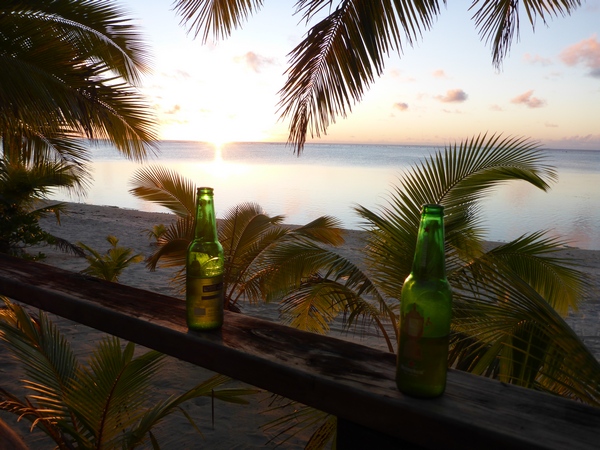 Fortunately before I actually started blubbing I was hailed from the deck of a nearby beach house, and invited to take part in the important traditional ritual of Beer O'Clock by friendly Kiwi traveller Martin. As we sipped two cold ones and kept the mossies at bay, he regaled me with tales of his visits to Vaikoa (he's been visiting and staying with Mama, Terangi, Junior and Joel for years). Back in New Zealand he volunteers on a bird conservation project at Pukaha Mount Bruce National Wildlife Centre. Like everyone I'd met so far on my travels, Martin was warm and sociable and happy to share tips about exploring the island. Before I left the UK I had a few people express concern and even discouragement about my plan to travel alone: but what I actually found was that travelling alone means that the people you meet tend to open up to you and take you under their wing.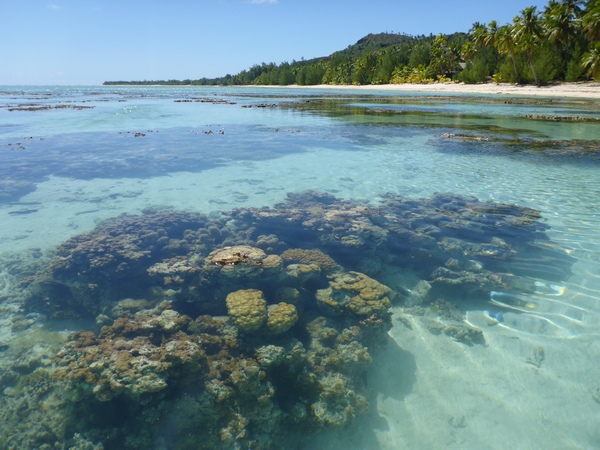 The next morning I was back at the beach after breakfast. Vaikoa means 'clear water', and by wading only a few steps into the warm sea I was surrounded by corals and sea cucumbers and darting little fish.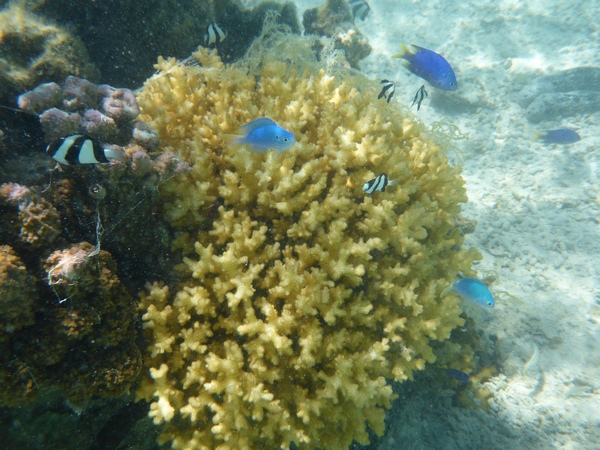 Bright Blue devil damselfish and black-and-white striped humbug damselfish drifted in small shoals around the coral, flitting away when I got too close. Wrasse and triggerfish and inevitable herds of sea cucumbers, long-spined sea urchins which I swam past carefully. I was still a little wary of this undersea world, having read my copy of The Snorkeller's Guide To The Coral Reef carefully, especially the sections about the multitude of venomous life which can be found in coral reefs. There seem to be an awful lot of sea creatures which can bite, sting, puncture and otherwise mangle you: there are even corals which can make you sting and burn if you're unlucky enough to brush up against them. Not to mention that treading on or knocking against corals is likely to damage the corals themselves… So a rule of thumb whilst snorkelling coral reefs is look, don't touch.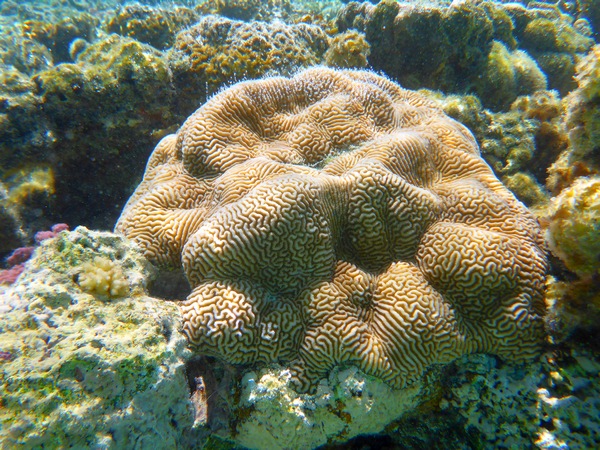 Looking is fabulous though. I grew up on TV programmes like The Undersea World of Jacques Cousteau, with the voyages on their boat Calypso to explore the wonders of tropical oceans. I was also an avid fan of the children's Japanese TV anime Marine Boy (Kaitei Shōnen Marin), spending quite a lot of time sitting on the bottom of our local swimming pool longing for the ability to breathe underwater conferred upon the eponymous hero by chewing his 'oxy-gum'… So to be floating about in the Pacific actually looking at a coral reef was definitely a dream come true.
All this swimming gave me an appetite, which Martin helped me remedy that evening by ferrying me on the back of a scooter to the nearby Puffy's eatery, where we ate some of the best fish and chips and salad I'm ever likely to enjoy in this lifetime. The fish was buttery and succulent and moreover went by the name of wahoo, which has to be the funkiest fish title on a menu ever. I felt as though I was in a Dr Seuss book.
"I went for a snorkel and saw fish quite a few:
And later I ate one, it was called Wahoo."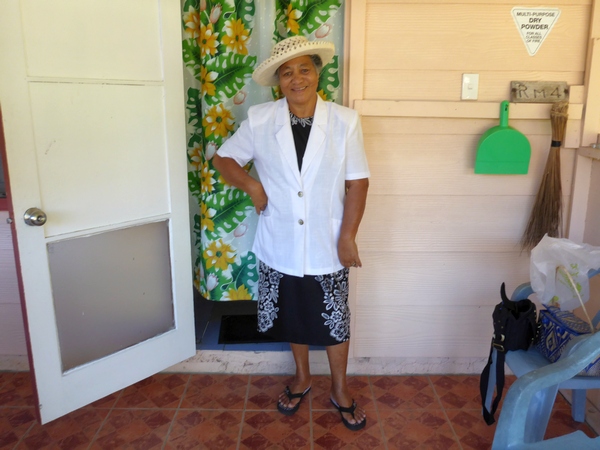 The next day was Sunday and Mama had arranged to take me off to church with her and Martin. I was keen to go because I'd read great things about the singing that happens in Cook Islands church congregations… Plus I was genuinely curious as to what the Christian faith meant to the locals. Mama turned up bright and early at my door in her Sunday best, and brought a hat for me to wear too.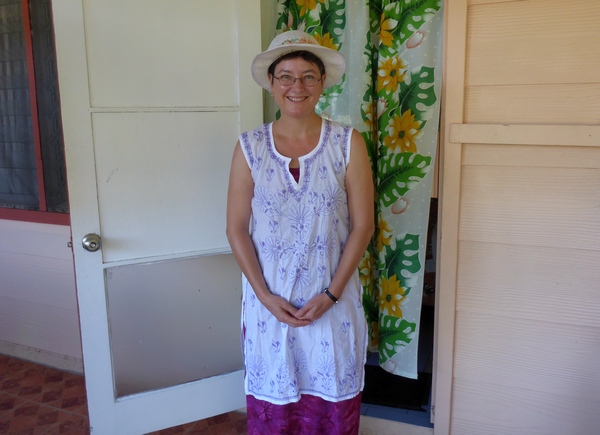 Feeling a little like Pollyanna I held onto my hat as Mama drove us on her scooter into Arutanga, to the CICC (Cook Islands Christian Church).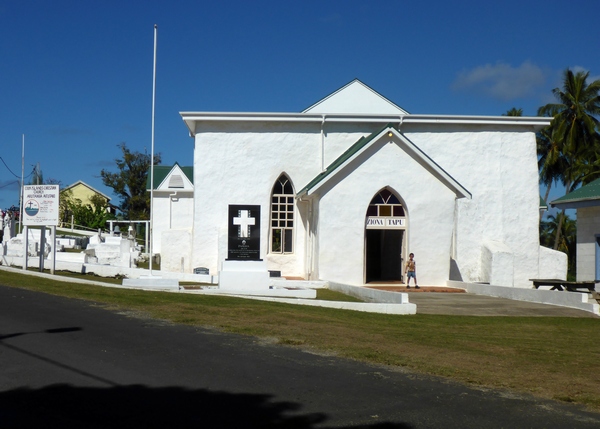 Built in 1828 (and carefully restored in 2010 by locals), the CICC is the oldest Christian church in the Cook Islands. It stands near the centre of Arutanga, Aitutaki's main village and administrative centre (it has a bank, a post office, a harbour, and a couple of stores). More metaphorically speaking, the church also stands at the centre of island life: from speaking with Mama and other locals, I gathered that the church plays a large part in most people's lives, and has a big influence locally.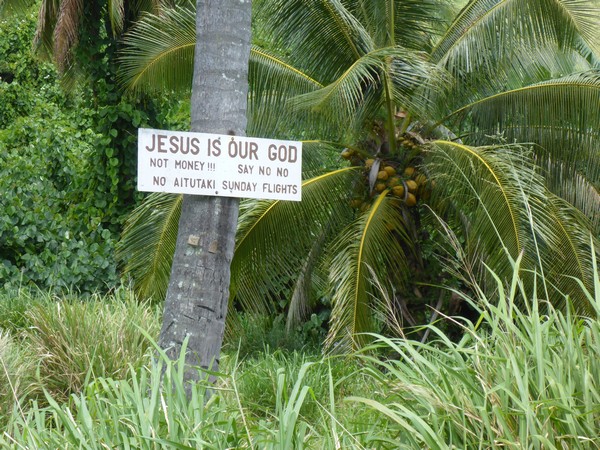 The devoutness of some of the locals is evidenced by roadside signs denouncing the flying in of tourists to the island on Sundays: apparently Sunday flights are even sometimes picketed by locals on arrival. Coming from a largely non-religious family background, I had no particular stance on this, other than feeling the locals should have the ultimate say over what happened on their island. Personally I find the whole hell-and-brimstone approach less than appealing: if I feel inclined to kick up my heels or otherwise do stuff on a Sunday, I wouldn't let a bunch of god-botherers deter me. But when in Rome etc: I'm also respectful of local culture, so if Aitutakians would like tourists to observe the sabbath then maybe that's what we should be doing.
Inside the church was shady and peaceful, with light falling through the mellow stained glass and a slight breeze blowing through the open windows. Usually tourists have to sit towards the back, but I was privileged to sit with Mama and Martin in the area reserved for locals from the Amuri area of the island (people sit in church according to what part of the island they hail from). The church soon filled up and the service began, with singing that was haunting and lovely in equal parts. Cook Islands Maori is rich in vowel sounds and not easy to follow or learn: Martin shared a Maori hymn book with me and I took my cue from Mama as to what harmonies I should be singing, but sometimes I just listened. Many of the hymns had a call and response pattern, with the song flowing back and forth between women and men, rising up to the white-painted ceiling with its ancient anchor.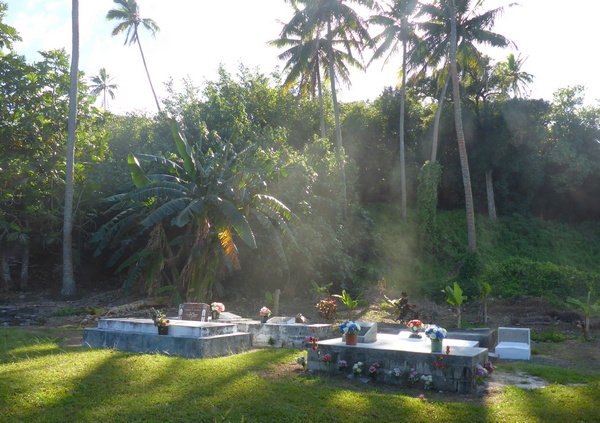 Although there was a cemetery at the church, most Cook Islanders usually bury their dead on family land: often close to their homes. Family graves are tended lovingly and carefully, much like the gardens themselves of Cook Islanders. Some people might find this morbid but I actually thought it was a touching custom: keeping those who'd gone close by, rather than exiling them to some fenced-off graveyard.
After many hymns and a long sermon in Maori (during which I was entertained by watching local youngsters play pranks on each other, fidgeting about on the pews) it was time to head back out into the sunshine. Mama stayed to talk with friends and relatives, but Martin and I had other plans: a Sunday afternoon scooter ride round the island, to see some of the local sights. After a quick detour back to Vaikoa to change out of my church frock and into some shorts, we set off. I wasn't sure whether the prohibition on Sunday flights also applied to scooter rides, but as many locals were still motoring about, it seemed unlikely. Suitably attired in yet another hat and carrying my camera, we hit the open road.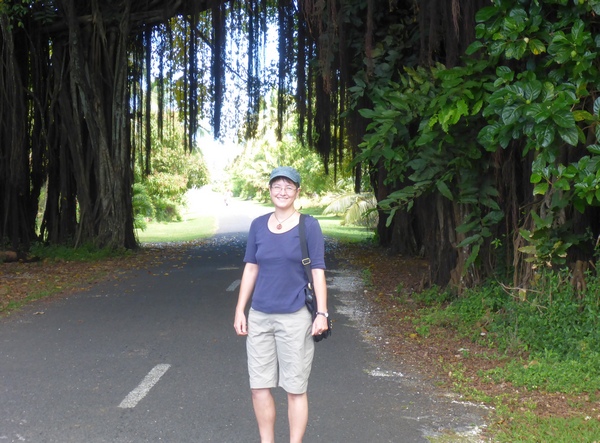 Coming up in the next chapter of South Pacific Adventure:
Clams fit for a king; how to say thank you on Aitutaki; coconut cookery school; and a taste of paradise. The end of my stay at Vaikoa… and moving to Matriki!