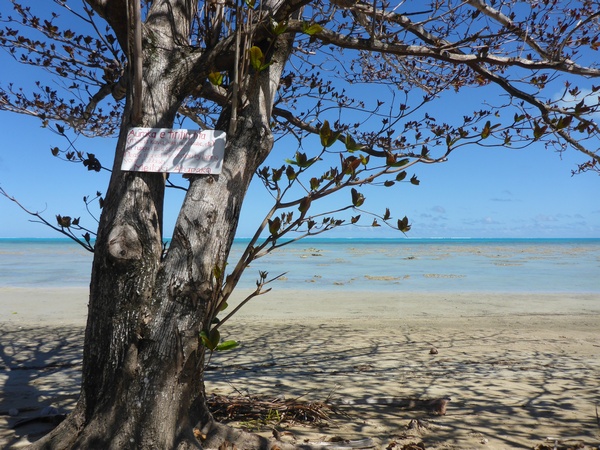 The sun smiled on Martin and myself as we headed off on our Sunday-afternoon scooter tour of Aitutaki. We passed very few other people on our circuit of the island: Sunday is very much a day of rest here, so apart from the odd local going fishing everyone seemed to be either in church or at home.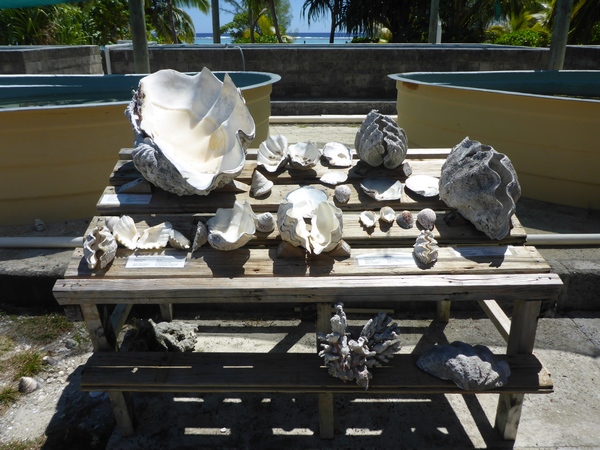 Our first port of call was the Aitutaki Marine Research Centre at the northern tip of the island. This grand title sounds impressive, although once you get there it's basically some big round tanks full of seawater under a netting canopy, which are full of native clams Tridacna maxima (called pāua in Cook islands Maori).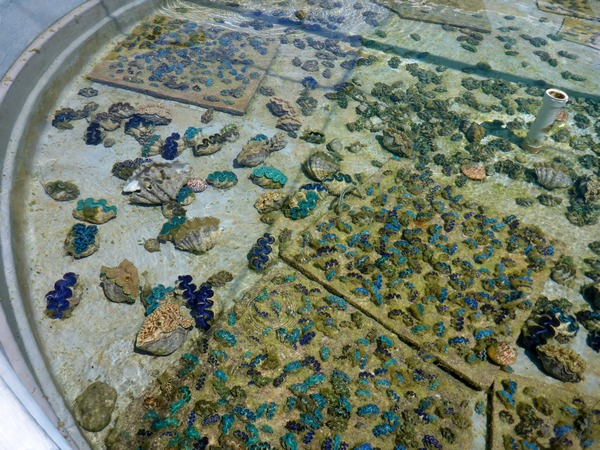 Aka the 'small giant clam', these pāua have been classified as a conservation-dependent species; which basically means that they will probably be wiped out by over-collecting and pollution, unless their long term future is safeguarded by active conservation measures. On Aitutaki, this takes the form of cultivating baby clams in these tanks, on square slabs on concrete. Once the clams are big enough, these slabs are taken out to sea and placed in a 'clam nursery' in the island's lagoon.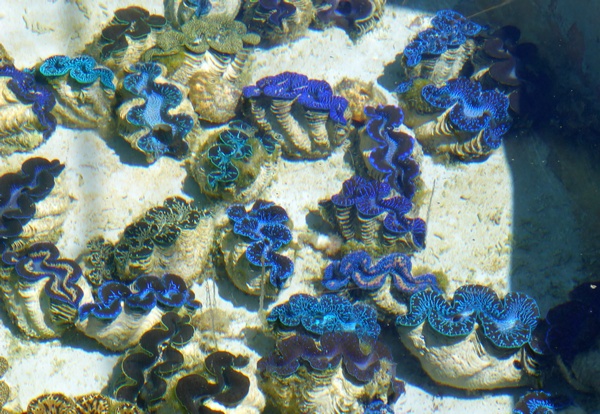 These clams do not rival their bigger cousins, the introduced species of giant clam Tridacna gigas, also found in the surrounding ocean: typically pāua grow to a maximum size of 20 centimetres. But they have traditionally been a much-prized food source to locals, and lately have also become the target of the aquarium trade, because of their gorgeously-coloured and patterned mantles. This amazing colouration is caused by the presence of tiny single-celled algae in the clam's mantle – plants which produce food by photosynthesis, supplementing the clam's filter feeding process.
Pāua were once abundant in the reefs and lagoons of the Cook Islands. Nowadays, if you want to find these little clams offshore around the more populated and tourist-visited islands such as Rarotonga and Aitutaki you have to look very hard. I did discover one whilst swimming off the beach at Vaikoa (see photo below)… But when I reported this back to Mama she said that she and her family would go fishing for the pāua if they knew it was there! Mama originally came to Aitutaki from Kiribati (a group of Pacific islands which were a UK colony until 1979). Her husband chose the land at Vaikoa and taught her to fish, because he said he wanted her to be able to survive in old age from being able to find her own food. I sympathise with this: as ever, it's the complicated issue of the needs of local people being balanced against the ability of the local ecosystem to tolerate the demands being placed upon it. As a wildlife conservationist I was firmly in the little clam's corner, but at the very least I feel local people should be involved in decision-making; and they should also be paid to carry out the conservation work to preserve these beautiful creatures.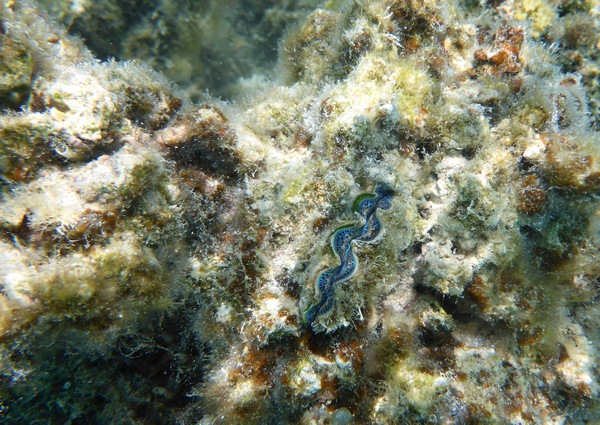 After seeing the clams we continued our tour: via Vaipeka to view the ginormous fig tree that spans across the road (see my photo at the end of the last chapter of this blog); past Neibaa's grocery store (the only one on the island which stays open on Sundays); and on down to Vaipae wharf, where Martin sets out for his lagoon fishing trips with local friend Itu.
This eastern shore of the mainland of Aitutaki is very different to the western side where I was staying at Vaikoa. A mud and sand beach stretches out shallowly into the lagoon, looking across towards the islets that fringe it and the island's popular northeastern-most finger of land, O'otu. In Cook islands Maori, o'otu means "to burn" or "to cook": I wondered wryly if all the white tourists sunbathing on the gorgeous white sand lagoon beaches there knew that. Martin commented that he rarely goes to that part of Aitutaki, because it harbours legions of mosquitoes. (They breed in the little pools of water trapped in the leaves of pandanus trees Pandanus arapepe, which grow in that part of the island.)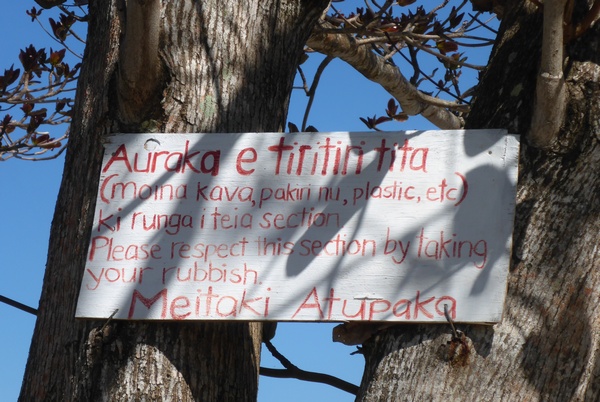 A sign on some trees at Vaipae gave me the chance to have another local language lesson. Meitaki is Cook Islands generic Maori for "Thank you", but each island has its own language variant for "Thank you very much": here in Aitutaki it is meitaki atupaka. I loved the sound of Maori and did my best to learn a few phrases beyond the ubiquitous kia orana ("May you live long", the Cook Islands equivalent to "Hi there, cool to see ya")… But it's definitely a language that takes time and much practice to acquire. I'm of the opinion that if you travel in other people's home countries it's both respectful and fun to try to communicate with the locals at least a little in their own language. Whether I actually make myself understood or just make them laugh isn't really a big deal.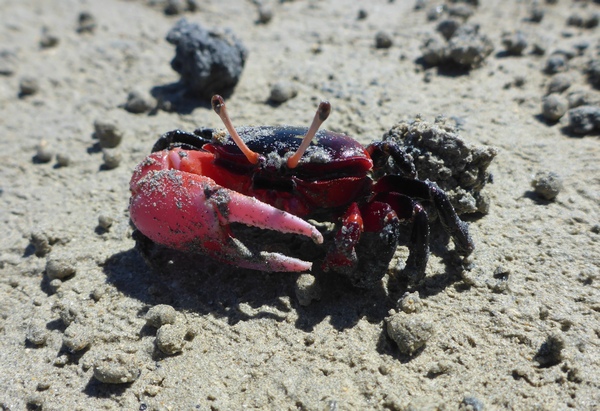 All over the beach at Vaipae there were little tracks and spherical balls of sand, interspersed with small round holes tunneling down into the ground. These it turned out had been made by Narrow-fronted fiddler crabs (Uca tetragonon), local name koro'iti. The males of this characterful little crab species sport a garish large pink claw which they flourish to impress their lady-crab friends. Allegedly. Personally I think any male waving something that flamboyantly pink around might be secretly getting in touch with his own feminine side, which can only be a good thing.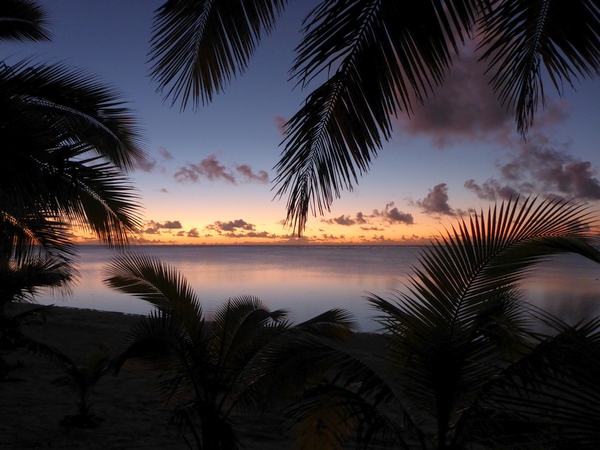 We concluded our clockwise island scooter tour by swinging by Tautu wharf and back through Arutanga and past Ziona Tapu church, on so onward back home to Vaikoa… Where Mama kindly greeted us with a cup of tea and some banana cake, to celebrate Father's Day, for Martin! Later we made sure we also observed the important ritual of Beer O'Clock on Martin's beach hut verandah, where a typically stunning sunset put the finishing touch on what had been a rather wonderful Sunday.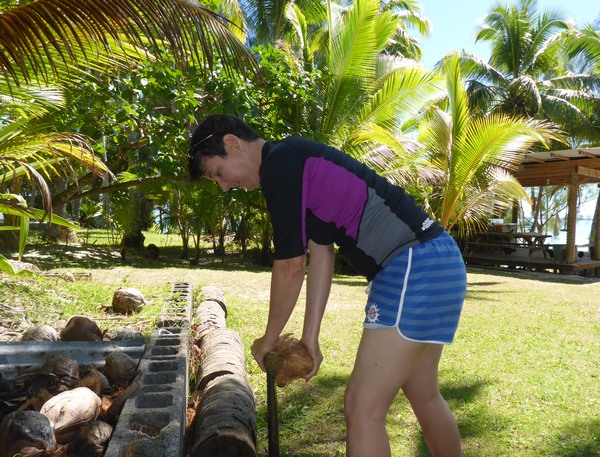 After my day of rest, it was high time I did something useful: so on the following day Martin gave me a lesson in the art of coconut husking and making coconut cream. Firstly, you find a ripe coconut (or ariki). This is never difficult as they are lying on the ground all over the place, and no-one minds if you help yourself to one. Next, you use a metal or wooden spike that's firmly fixed in the ground to prise off the coconut's hairy brown husk.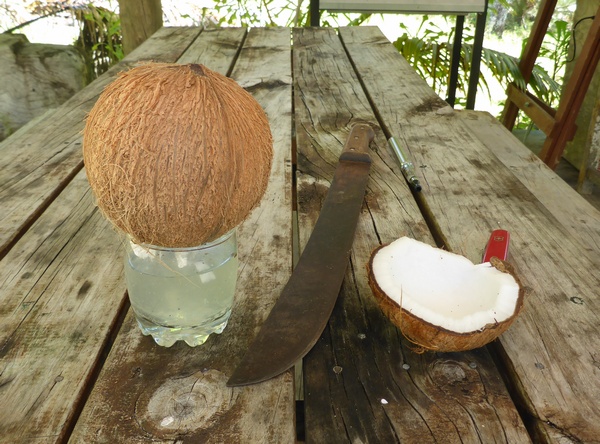 Once husked, you pierce the coconut through two or three of its eyes (using that otherwise pointless sharp poky tool thing on your trusty Swiss army knife), and upend it over a glass to drain out the coconut's sweet fruity water. Drink this yummy juice (with or without the addition of rum).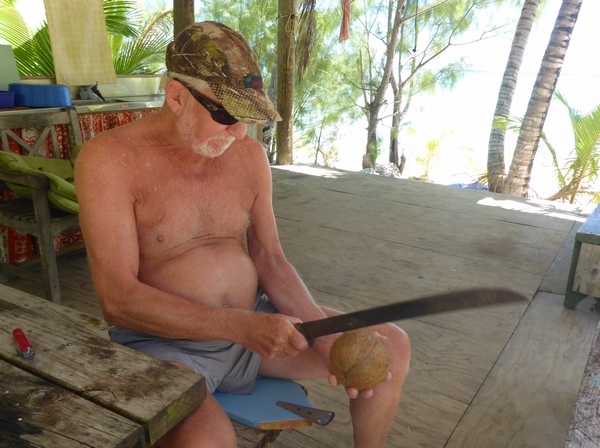 Take a machete that Crocodile Dundee would approve of, and very carefully use the back of it (i.e. the blunt edge) to strike the coconut smartly on its equator. A few hits like this, rotating the coconut between each blow, will crack it more or less neatly in half.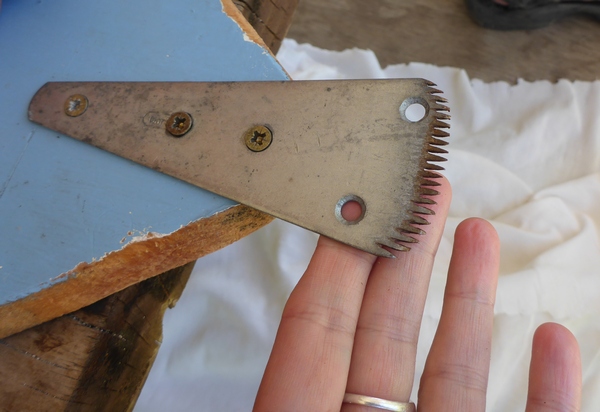 The next bit of hi-tech you'll need is a coconut grater: traditionally they are made from sea shell, but this recycled door hinge screwed onto a bit of plank does the job.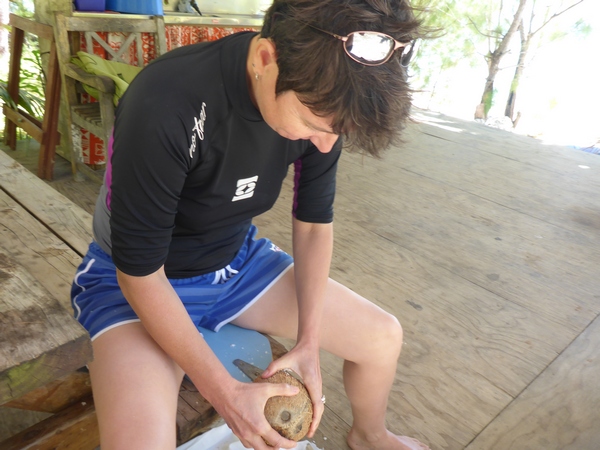 Grate the coconut's flesh from the shell, starting at the coconut's top outer edge, then working your way gradually round and into the shell until you're nearly down to the husk (when you're done you can ingratiate yourself with the local chickens by giving the husk to them to feast on). Collect the grated coconut flesh in a clean cloth placed below.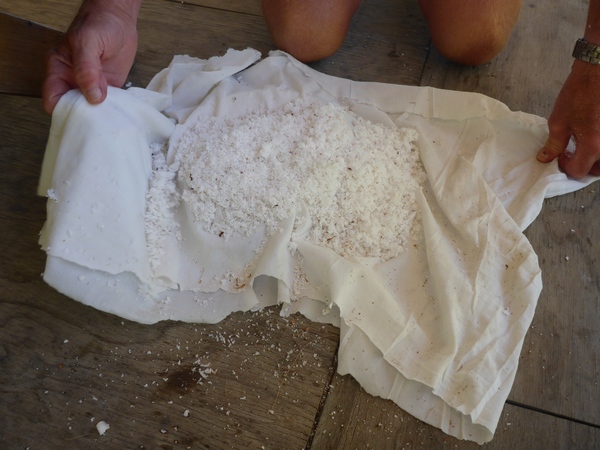 Once you've filled your clean cloth with grated coconut, you simply twist it up to squeeze out the coconut cream.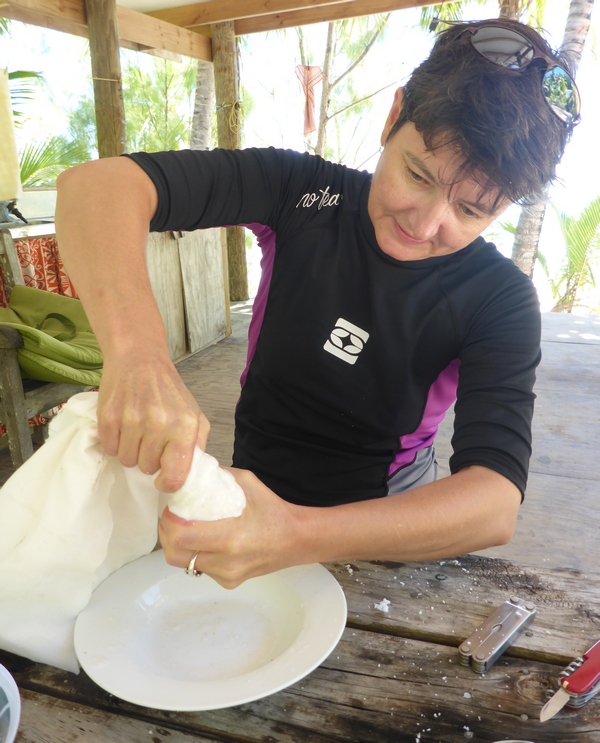 Coconut cream is yummy and unctuous and all things good. It goes beautifully with banana, pawpaw, pineapple, mango or other tropical fruits; or added to curries and stews. The leftover grated coconut is nice with your breakfast cereal – or in jam sandwiches!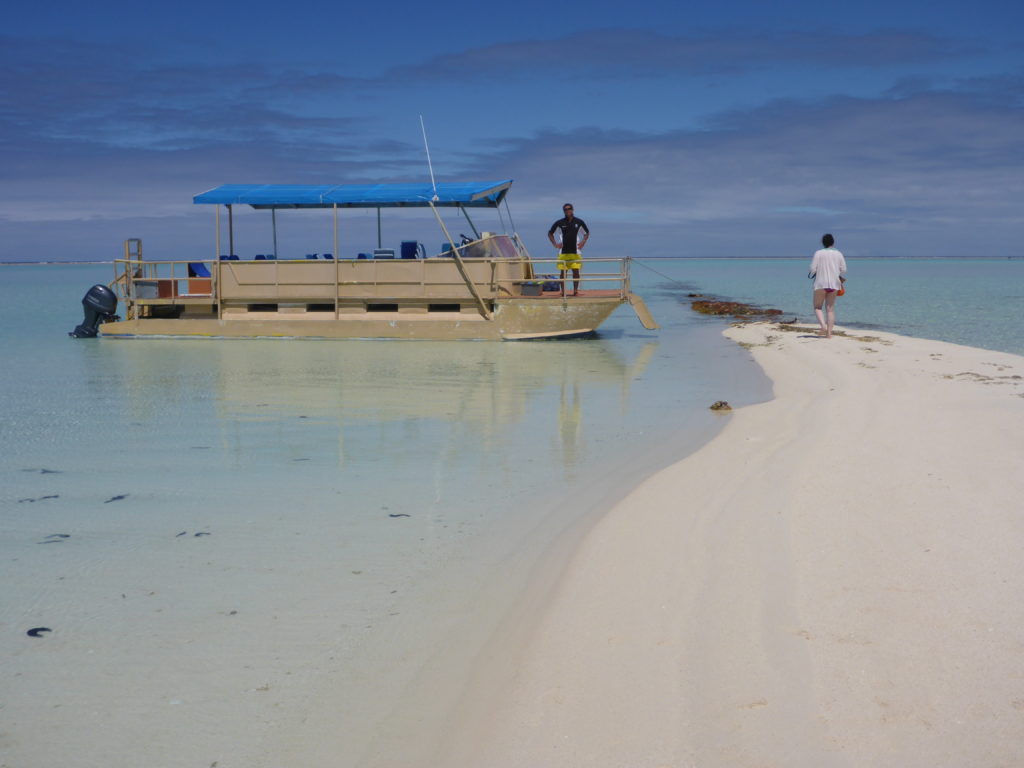 Sadly Martin left Aitutaki the following morning (although with the typical generosity of everyone I met while travelling, he insisted on leaving all his leftover food provisions with me). I serenaded him on his way with a traditional Celtic blessing song; then after breakfast it was time to head off on a long-anticipated lagoon trip.
I joined six other tourists (five Kiwis and a German lady) on the funky little Aitutaki Adventures boat, whose skipper is Puna: an enthusiastic and upbeat local whose knowledge of Aitutaki and its marine wildlife is excellent.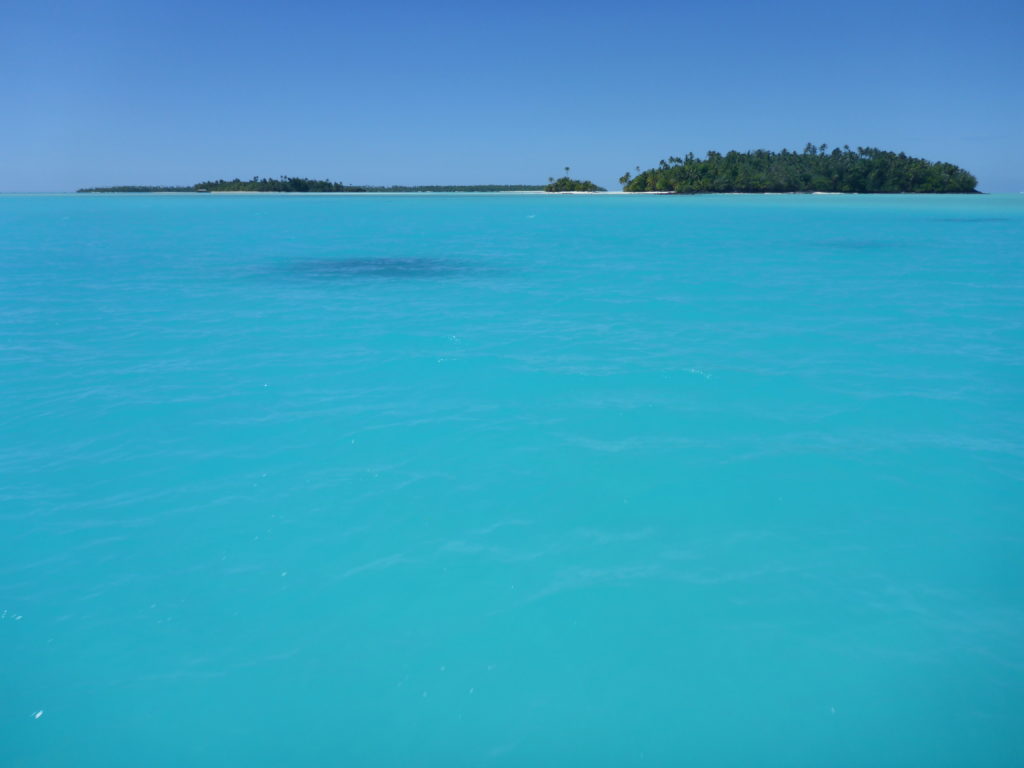 Travelling in a boat at sea almost always fills me with happiness, so I was already feeling uplifted as we headed out from Tautu wharf into the lagoon… But once we got a little way out to sea I was pretty much blubbing over how beautiful the lagoon was. Imagine the bluest thing you've ever seen, then times that by a thousand. Absolutely stunning.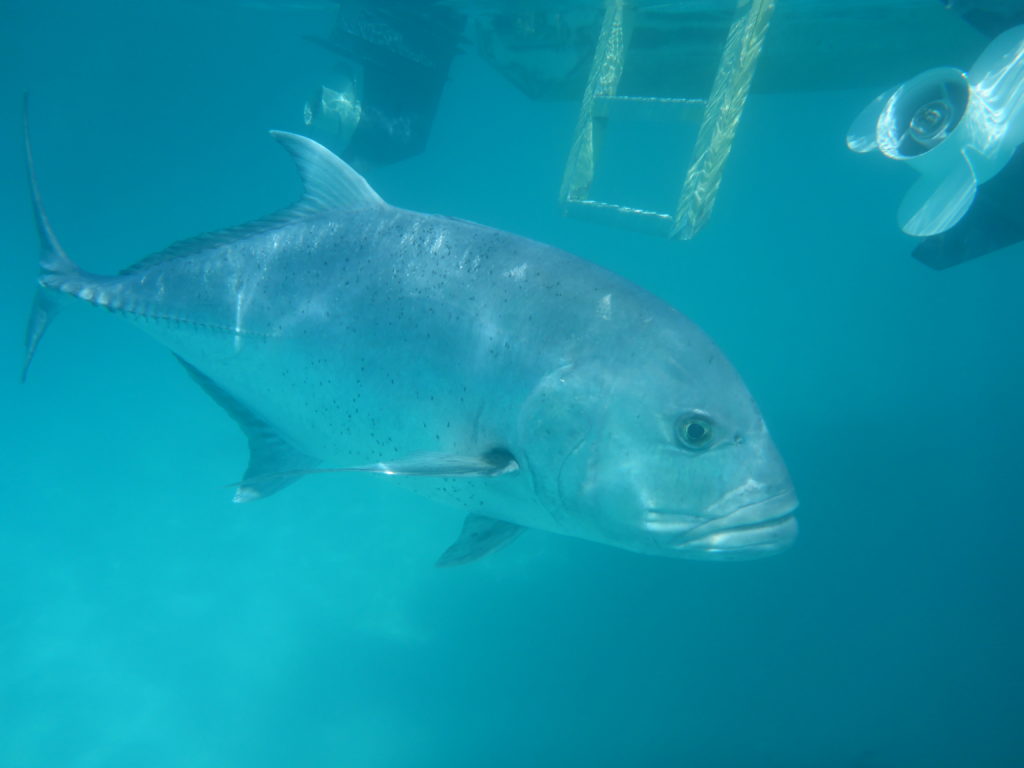 Puna motored out to close by the motu named Maina, where we jumped over the side of the boat for our first bit of lagoon snorkelling. Our first marine wildlife encounter was with a giant trevally (Caranx ignobilis), a fish that was approximately as long as me. It swam around the boat and those of us snorkelling in the water for quite some time, occasionally eyeing us in a manner that suggested it was assessing our edibility. This seemed only fair: many of these magnificent fish are caught by tourists and end up as someone's dinner.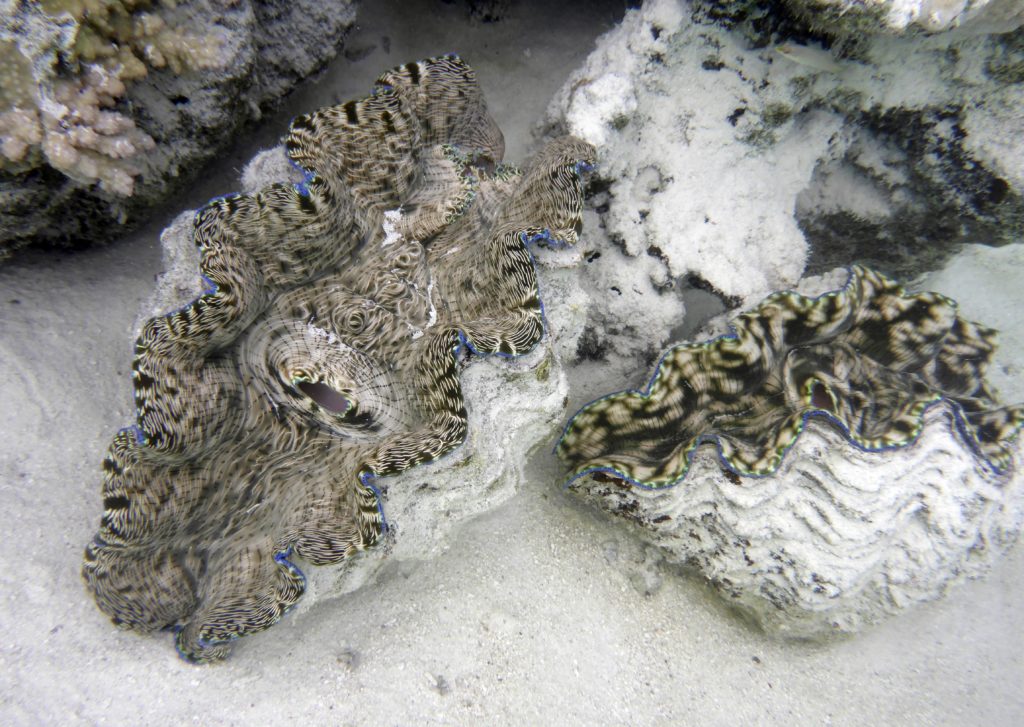 Being large was a bit of a theme here: I also swam over some giant clams (the non-native species, Tridacna gigas), which were similarly gargantuan.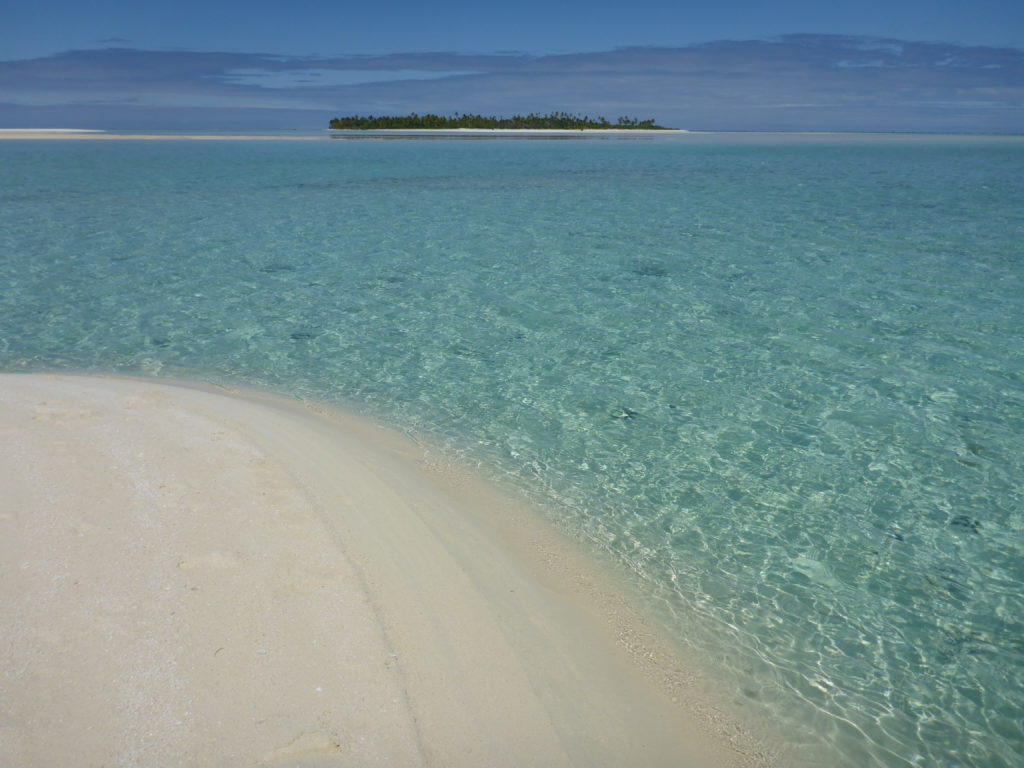 Right next to Maina is a beautiful sandbar which has been named (rather unoriginally) 'Honeymoon Island' by tourists. Its pink-white sand and turquoise sea are stunning to look at though.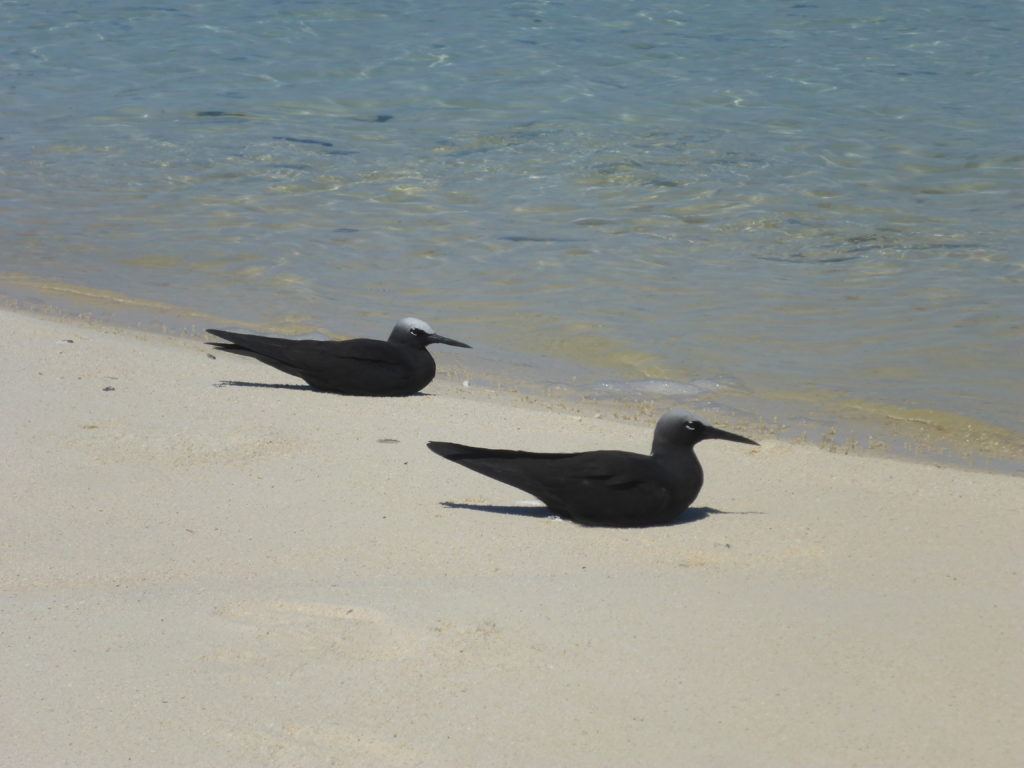 It's not just fish that use the lagoon: we saw turtles as we travelled out from the mainland, and here on the sandback many birds use it and Maina as a refuge. I walked past a couple of ngōio, black noddies (Anous minutus) who seemed pretty unruffled by a handful of trespassing tourists. This motu is also home to the rare Red-tailed tropicbird or tavake (Phaethon rubricauda), and we saw a few of these flying with terns.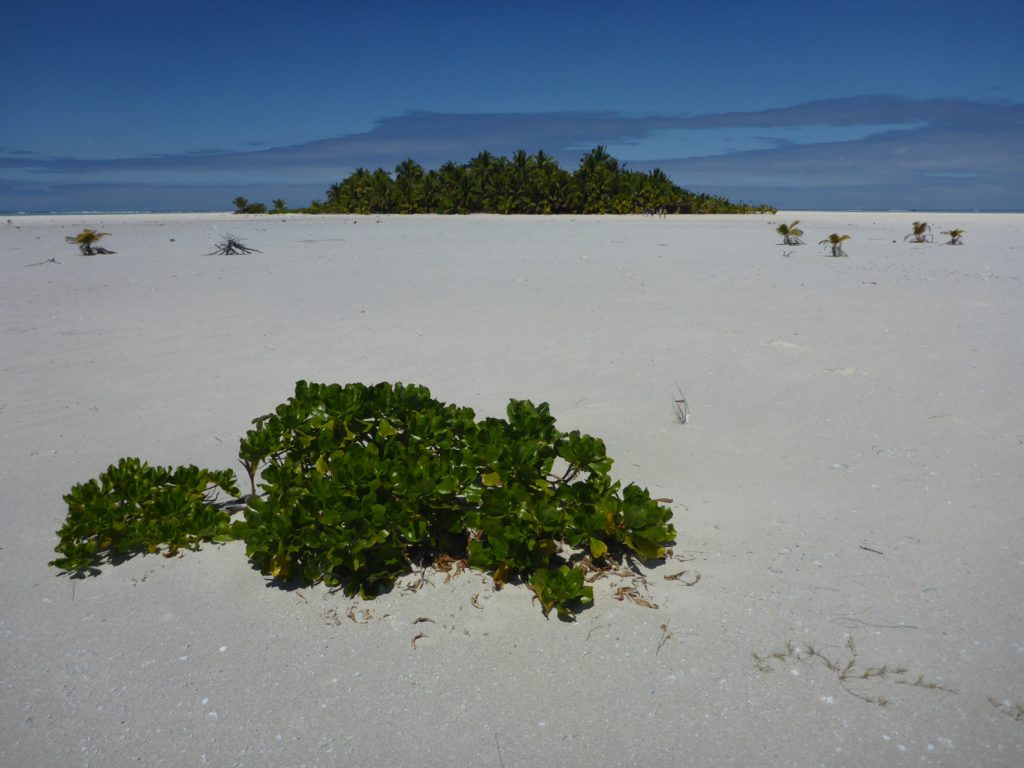 Beautiful though Aitutaki lagoon is, you realise as soon as you visit these little motu up close what a difficult environment it is for wildlife to survive in. The sand was almost too hot to walk on barefoot; there is no fresh water (other than rainfall), and tropical storms can whip the sea over these low-lying islands and snap off coconut palms.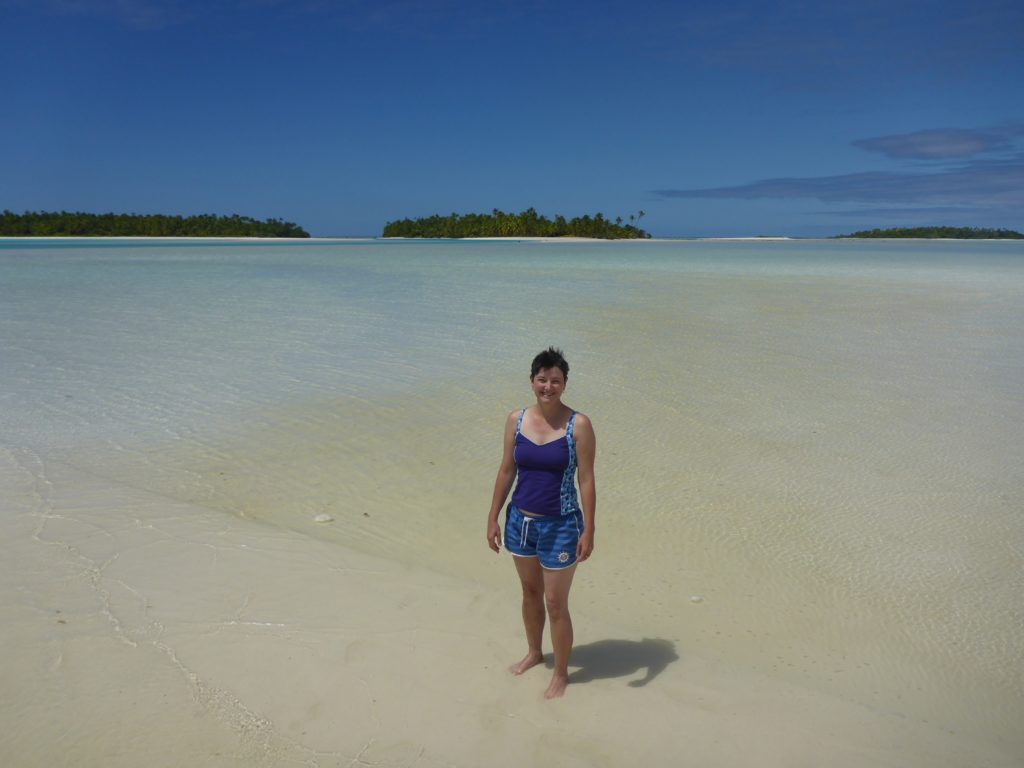 No Pacific ocean voyage though would be complete without being marooned on a desert island… So Puna headed further across the lagoon, before leaving those of us who were up for the challenge on a sandbar. From there we were able to wade/walk to Tapuaeta'i (One Foot Island), our lunch time stop.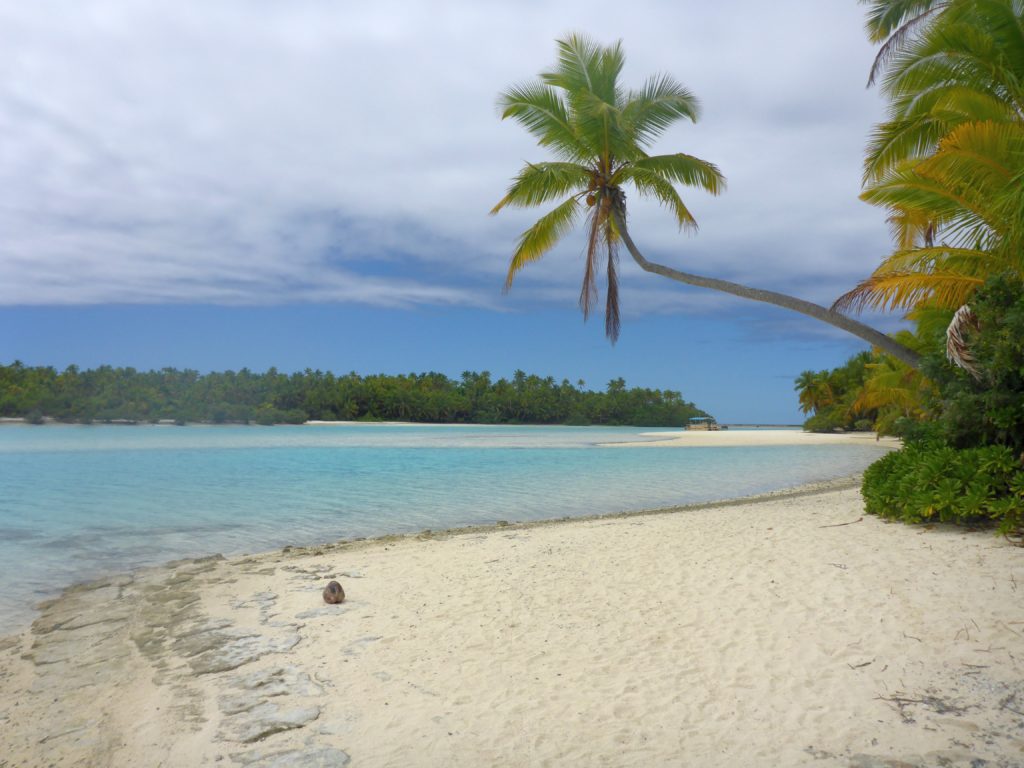 Tapuaeta'i is the motu that all tourist lagoon trips go to (and you can even get a foot-shaped stamp in your passport there), but Puna's Aitutaki Adventures trips in his small boat mean you get a bit of space to yourself. You also get a mouth-wateringly delicious lunch, which was waiting for us on a nice secluded and shady deck. I unashamedly gorged myself: four kinds of salads; pawpaw; fried aubergine, onion, pumpkin and courgette; savoury rice with carrots and beans; and grilled mahi mahi fish (dorado, Coryphaena hippurus) which literally melted in my mouth. I should also mention that before this paradisical feast, there were fresh bananas and watermelons and doughnuts served out to us on the boat, after we'd been snorkelling… Presumably in case we grew faint from hunger before our sumptuous lunch. And all washed down with Puna's chilled 'fruit squash' made from fresh lemons, a glorious citrusy zingy hit.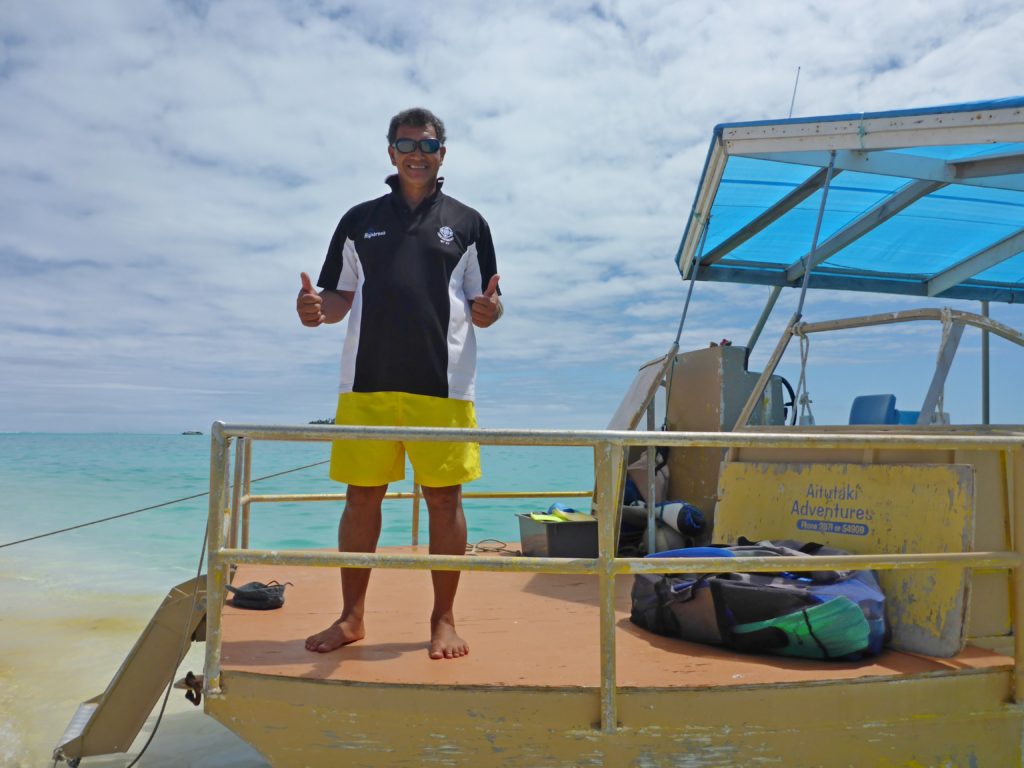 After lunch Puna entertained us by relating stories of the time the TV series Survivor! was being filmed on Aitutaki's lagoon motu in 2006. The TV crew took over all accommodation on the island for three months, created a new channel at Tautu wharf, and generally made a good impression on the locals. Puna got a chopper ride over Aitutaki's lagoon which he loved, and spent a lot of time with the series producer, who was very interested in local history and culture.
Puna himself is a cool dude. He spent five years working up on the island of Manihiki in the northern group of the Cook Islands. Manihiki, also known as 'island of pearls', is over eight hundred miles north of Rarotonga: about as remote as you can get in the South Pacific. Puna said five years was as long as he could cope with living there, working on the pearl trade. Most of the technicians there are Japanese, some from as young twelve years old learning the delicate science of seeding pearls in oysters. This craft is passed on within families and not shared with outsiders. Apparently these Japanese pearl technicians can tell what type of pearl an oyster will produce simply by looking at its shell – i.e. black, green, white, gold… Manihiki pearls are often black or green.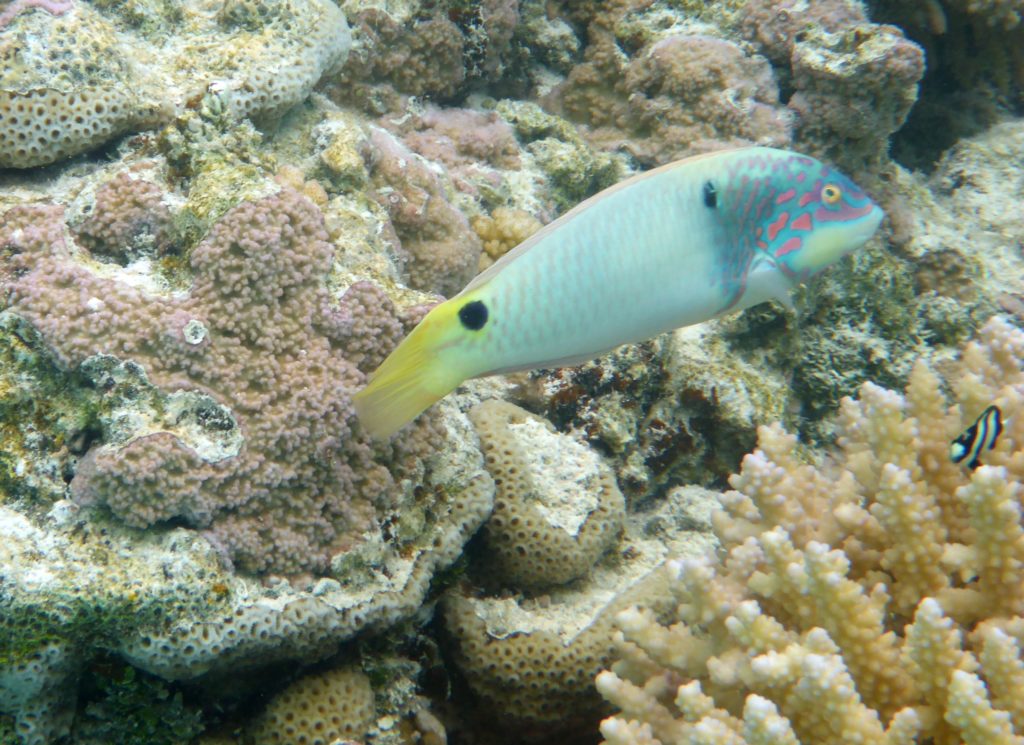 After we'd digested lunch Puna took us in the boat to another area of the lagoon to get a last bit of snorkelling in, before the dark rain clouds which a north-westerly wind had fetched on the horizon reached us. All kinds of brightly-coloured fish darted about over the coral: wrasse, butterfly fish, the inevitable Picasso triggerfish and humbug damsels, and the electric blue starfish that were a common coral reef denizen here.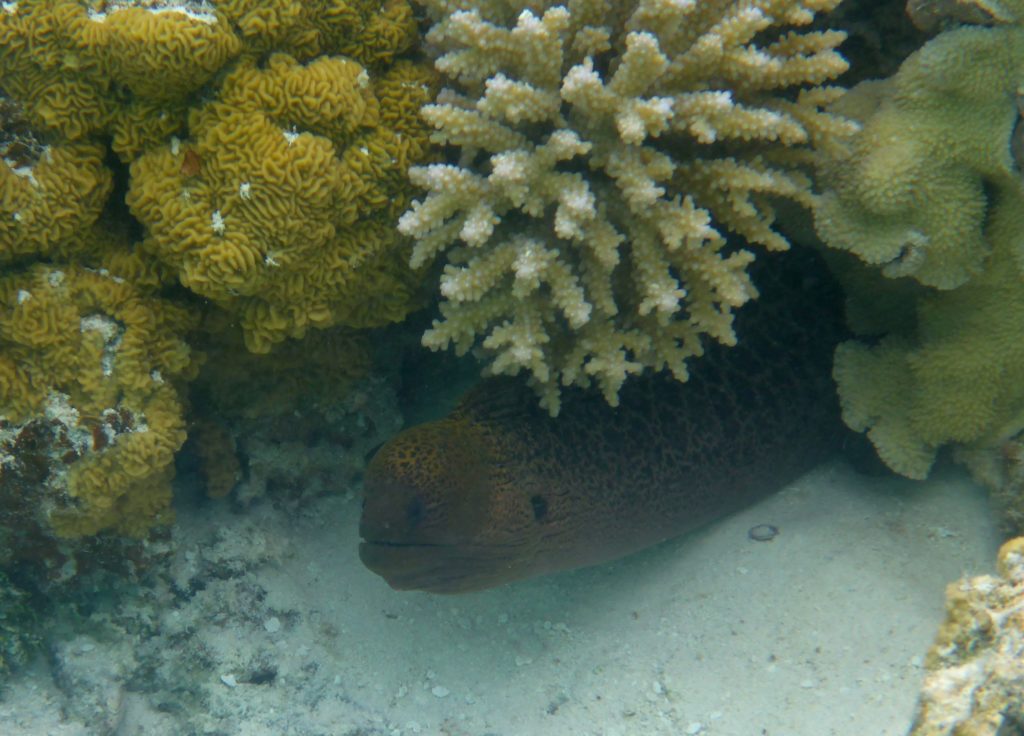 Another creature caught my eye, lurking under the edge of one of the coral bommies we were snorkelling around. I swam down for a closer look, then put on the brakes: it was a giant moray eel (Gymnothorax javanicus). Torn between wanting to ogle this amazing predatory fish up close, and vaguely remembering that moray eels are reputed to be somewhat grumpy, I hovered a couple of feet from it… Whereupon it slowly turned its head and gazed steadily at me like a malignant marine sock puppet. Unlike a sock puppet however it appeared to be armed with a mouthful of stubby sharp fangs. I considered my options, and decided to give the moray some space. Subsequent research confirmed that I made the right decision: the giant moray grows to three metres long, and most definitely does not fall into the cuddly sock puppet category. (Wikipedia helpfully comments, "This species may be hazardous to people… It has been implicated in provoked and unprovoked attacks on scuba divers.")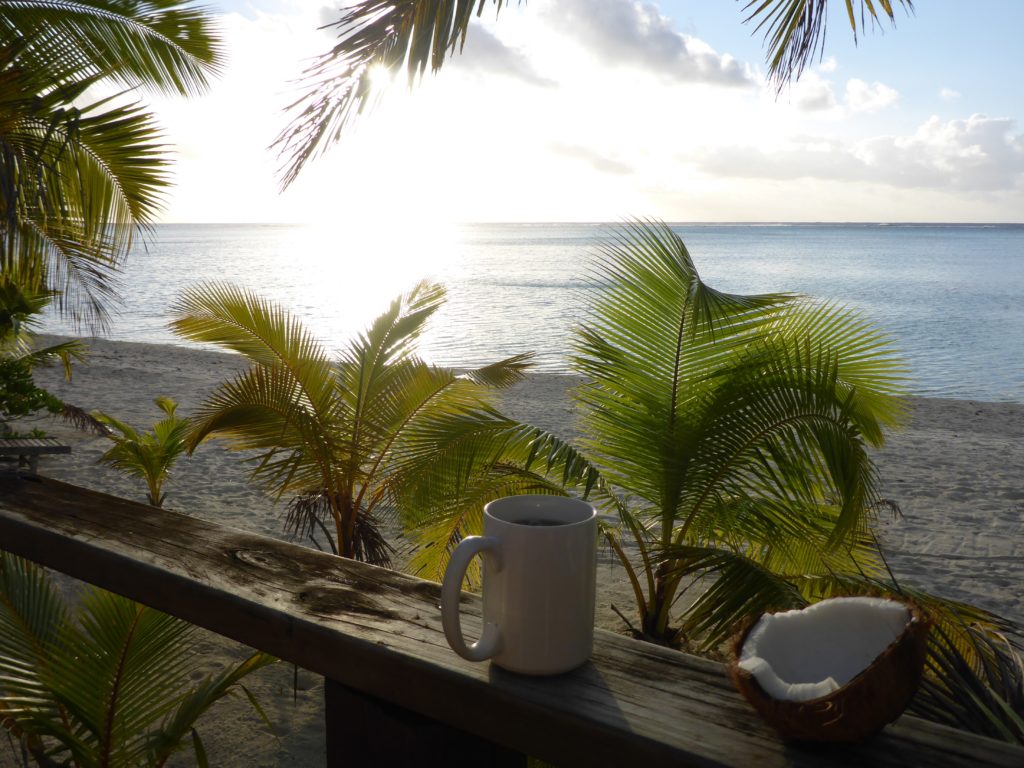 Surviving unscathed from my moray encounter, I returned to the boat… and Puna delivered us all safely back to the mainland. The threatening clouds dispersed and I was able to enjoy another lovely evening back at Vaikoa, watching the sun slide into the sea.
All good things must come to an end: and sadly it was time to move on from Vaikoa, with the lovely Mama, Junior, Terangi and Joel. I packed up my bags and walked the short distance northwards along the road, to my next temporary home: Matriki Beach Huts.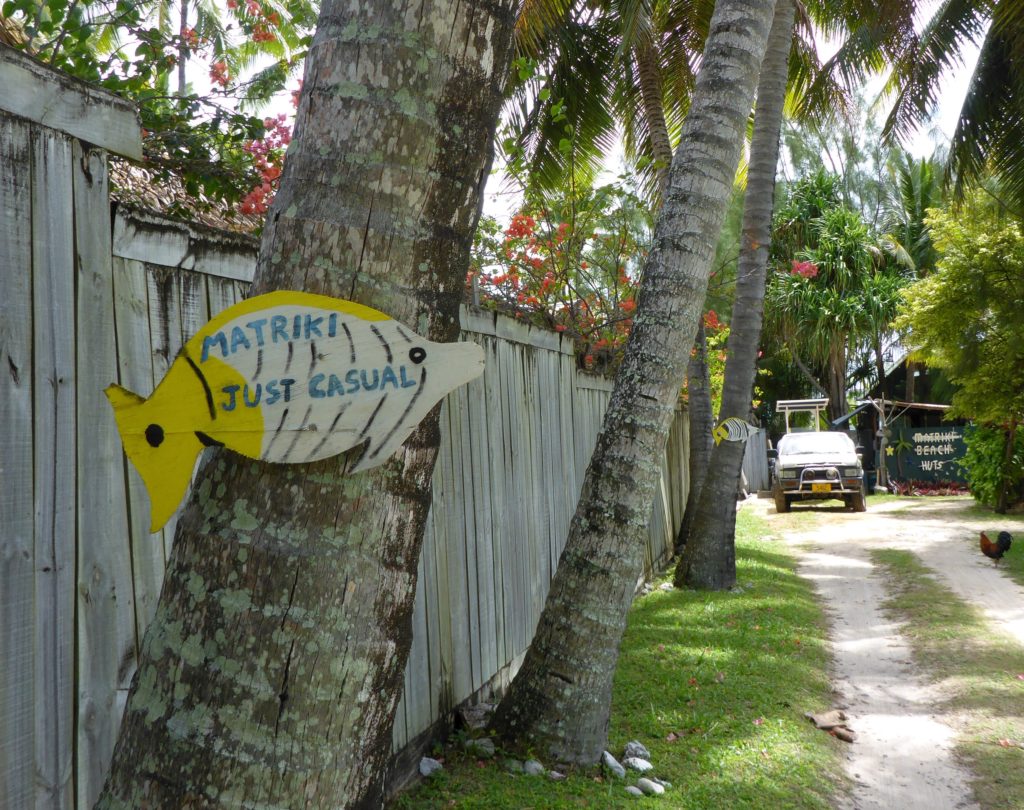 I'd found Matriki's website while researching lower-budget places to stay on Aitutaki, and immediately liked the sound of it: and from the moment I walked along the sandy drive I knew I was going to have a great time there. The accommodation is basic but stunningly located right on the beach: wooden beach huts with funky painted murals and little verandahs looking out over the beachfront.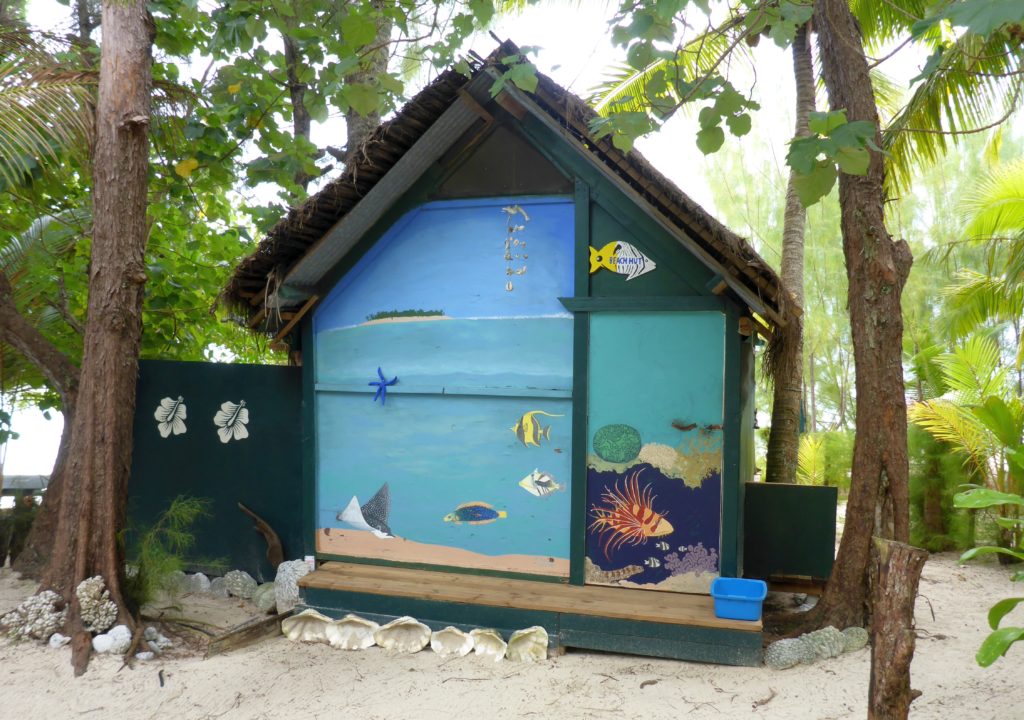 I'd booked a week's stay in the 'Beach Hut', which was as Robinson Crusoe as it sounds. Well kitted out (fridge, cooker, mosquito-netted comfy bed, electric lights, outdoor shower) and cosy, it was just what I'd hoped for: a basic (i.e. affordable) but stunningly-situated little shed by the sea. Not being a fan of luxury resorts (or being able to afford them either), I'd chosen to stay at Matriki because of all the nice things previous travellers said about it… And they were absolutely right.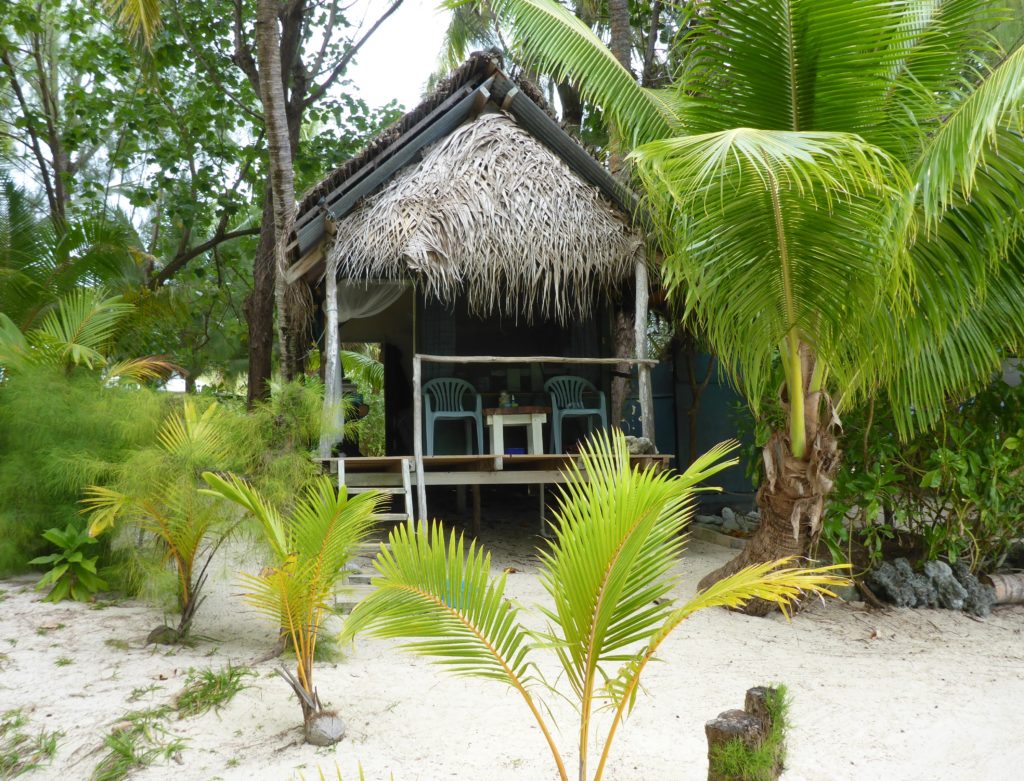 I wasn't the only guest at Matriki: there are two other beachfront huts (and also an option to stay in a self-contained garden unit attached to the house), but everyone has a bit of space. If you wanted to hang out with folks and barbecue or share food on the big picnic table that was an option… Or you could just chill on your deck and gaze at the sunset. I sat on my deck for a while and just drank in the view. Not for the first time, I felt incredibly fortunate and full of gratitude to be in such a beautiful place.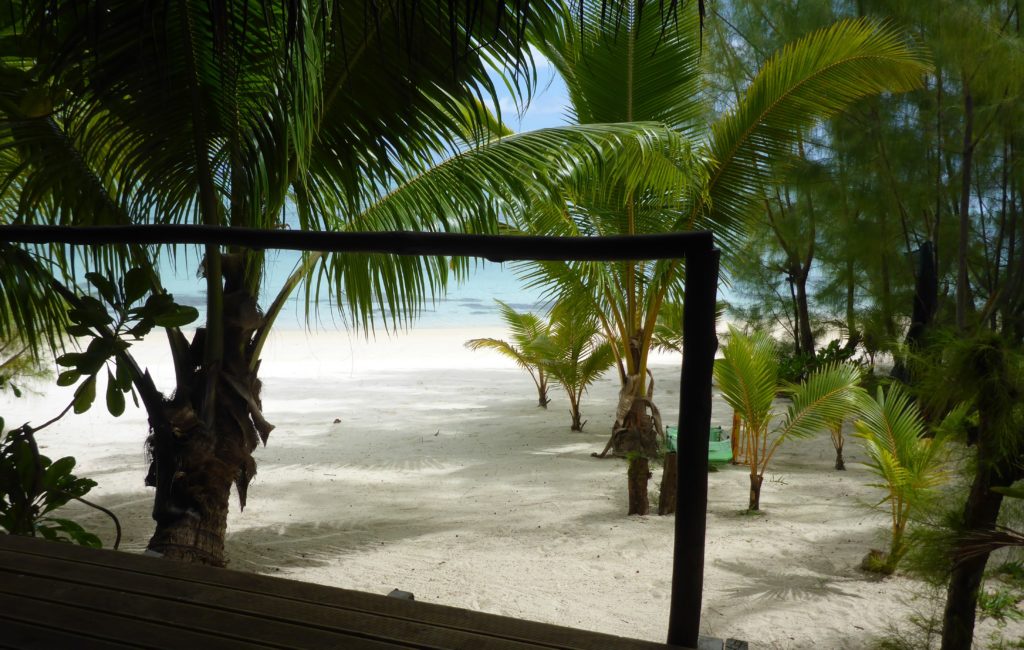 Matriki was quiet and peaceful, my first evening there. I spent the afternoon snorkelling, then had a (sun-warmed!) outdoor shower, before wandering along the beach. I didn't pass a single soul: just a reef heron picking its long-legged way along the sea's edge. The ever-present soft roar of surf against Aitutaki's fringing reef underscored other sounds: mynah birds chirping and squawking; a gecko ticking; a cockerel crowing; a riffle of small fishes hurling themselves airborne as they were chased into the shallows by something bigger. I could just see the surf breaking on the reef, a rolling line of white forever uncurling on the coral's encircling edge… And beyond, the wild indigo blue of the Pacific.
The sand still felt warm at sunset, giving softly under my feet. Scents of sea and bonfire smoke and evening cooking drifted past: frying onions, mosquito coils, something sweet. As the sun sank into low cloud it found a chink and lit up a golden path on the sea, which the heron followed as it fished in the shallows. Just eight more days, to enjoy Aitutaki.
Coming up next time, in South Pacific Adventure part 5:
Swimming with humpback whales; learning about Aitutaki's history;
cat therapy; and how we survived a tsunami warning.